1.
The Holiday
- I watched this with my SIL last weekend. The story is that Kate Winslet finds out that the man she has loved for a long time (Rufus Sewell) is marrying someone else. She decides to take a vacation far away and lists her house on a Home Exchange site. Meanwhile, Cameron Diaz has just broken up with her boyfriend (played by Ed Burns) because he cheated on her, and there is some silliness around the fact that she cannot cry, poor dear. Kate and Cameron exchange houses, and Kate is delighted with Cameron's California house, but Cameron is the quintessential ugly American and gets bored after about 12 hours in the English countryside.
If they had cut out the whole Cameron Diaz side of the movie and expanded the Kate Winslet side of the movie, it would have been at least 50% better. Cameron Diaz was terrible. Jack Black was okay, but I have liked him for a long time (I think I have terrible taste in men sometimes), and he came off as a little smarmier than he usually does.
Kate Winslet is a woman I would totally renounce all men for
, she was divine and delightful, as always. Jude Law was quite good, he definitely improves appearance wise when he wears glasses, and he was very sympathetic as a widower, but, of course, he would be, wouldn't he?
I don't really recommend the movie to anyone but diehard romantic comedy fans, or people who enjoy really bad acting by ostensibly attractive women (i.e., Cameron Diaz). Or rent it cheap and fast forward through any scene that doesn't involve Kate Winslet.
2.
Four Weddings and A Funeral
- you know the story, Charles (Hugh Grant) keeps getting invited to weddings and meets an American woman, Carrie (Andie MacDowell, outclassed at every moment), who he falls inexplicably in love with, and then she gets married and Simon Callow (not Cowell, sheesh) dies and Charles tries to marry to forget about his inexplicable love for Carrie, but he can't go through with it, so he and Carrie agree to not marry.
Okay, I will never understand why Charles falls in love with Carrie. Andie MacDowell is just there, all the lines sound like they were written for someone else to say, someone British, actually, and she has no special spark or wit or anything. This is sort of an ongoing problem I have with Andie MacDowell, which is that she seemed to always get cast as the romantic female lead, but there is something positively matronly about her. Not her appearance, but her - she seems like an old fussy woman somehow. I'm probably reading far too much into it.
The funeral always makes me cry - usually, I get all the way to when Matt (John Hannah) speaks at the funeral to start crying, but on this viewing, I started crying as soon as they cut to the funeral scene and I heard the music.
The first time I watched this movie, I was absolutely charmed by Hugh Grant, but the most recent time I watched it, I kind of fell for dorky Tom, played by James Fleet. And I was very sad to find that Charlotte Coleman, who I had a little crush on ever since I saw her in Oranges Are Not The Only Fruit, passed away in 2001 after an asthma attack.
3.
Running With Scissors
- I loved Augusten Burroughs memoir about his twisted childhood, and I was really looking forward to this movie, but it got terrible reviews, so I decided to wait for it to come out on DVD. And the movie was not good. But not good in a kind of weird way. The actors were all good...Annette Bening as Burroughs narcissistic mother was overacted, but not bad, Alec Baldwin can do no wrong in my book, Joseph Cross who played Augusten was terrific, etc. And yet.
The story in brief is that Augusten Burroughs is the child of a professor and a poet. His father the professor is a distant alcoholic. His mother is a narcissistic nutso. When his parents divorce, Burroughs lives for a time with his mother, who signs guardianship of Augusten over to her completely insane psychiatrist, Dr. Finch. Dr. Finch has a few children of his own, plus he has adopted a pedophile, Neil Bookman, who becomes Augusten's first boyfriend, and Augusten.
The Finch family is certifiable. They make decisions on everyday things by Bible dipping - opening the Bible to a random page and interpreting what they should do based on the word their finger lands on. Dr. Finch interprets his bowel movements as messages from God, and scoops them out of the toilet to go on a shrine in the backyard. The children are free to do whatever they want. When Augusten says he doesn't want to go to school, Dr. Finch encourages Augusten to attempt suicide so he can write a note saying that it would be bad for Augusten's mental health to go to school. Crazy, crazy, crazy.
I have two quarrels with this movie. The first is that a lot of the humor was sucked out. The second is that they made Augusten a much deeper character then he was in th book - in fact, I think one of the reasons Augusten survived his childhood was *because* he was shallow - he didn't have the sensitivity to let it ruin him completely. Although he did become a raging alcoholic, so I may be off base about that. Not so much a quarrel, but I was irked by the way they made the wife of Dr. Finch a substitute mother, which didn't happen in the book - she was just a strange, kibble-eating martyr in the book.
Love the book, and recommend it - skip the movie.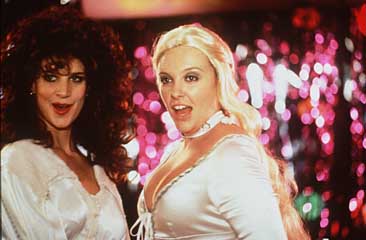 4.
Muriel's Wedding
- I love this movie. Rachel Griffith looks hot dressed as the dark haired woman from Abba, and the scene where Muriel's husband-of-convenience and Muriel make love after her mother's funeral is very romantic. Toni Collette is a terrific actress as Muriel goes from being pathetic to sympathetic. I'm keeping this on my DVR.